CoNOSC membership is open to at least all countries within the UN-European region. CoNOSC brings together a group of key national OS policymakers who promote the Open Science agenda in their respective countries. We seek two to three representatives per country.
CoNOSC members are generally national OS coordinators, ministry representatives with OS in their portfolio or high-level national OS experts, i.e. OS policy decision-makers. CoNOSC takes into account the differences in how Open Science is organised across countries and takes a flexible approach when recruiting members. Members can be nominated by the CoNOSC Board, by other members. National OS co-ordinators may also reach out to request joining CoNOSC.
Learn more about who our current members are below. If you are from the UN-European region and your country is not yet a member, please consider joining, see details in the "How to become a CoNOSC member" section.
Current members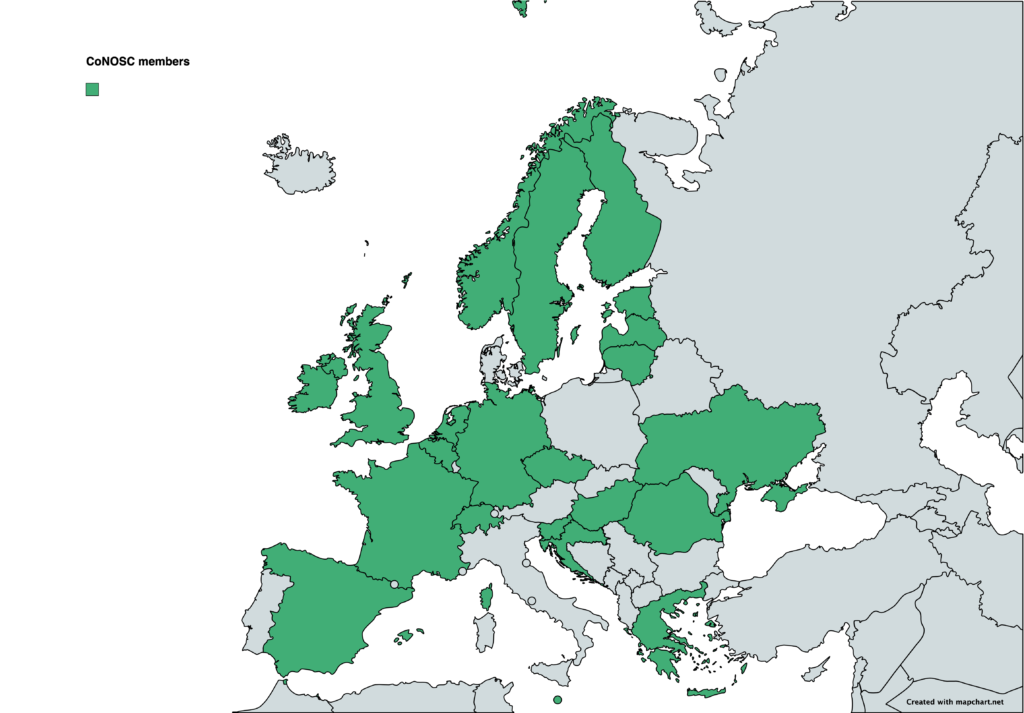 Our members include:
Belgium
Dr. Eric Laureys, Advisor, Belgian Science Policy Office
Marc Vanholsbeeck, Direction générale de l'Enseignement supérieur, de l'Enseignement tout au long de la vie et de la Recherche scientifique, Wallonia-Brussels Federation
Czech Republic
Eva Hnátková, Open Science Coordinator, National Library of Technology
Croatia
Dejana Carić, Scientific projects and programmes coordinator, Croatian Science Foundation
Denmark
Thomas Midtgaard, Senior Advisor, Ministry of Higher Education and Science
Hanne-Louise Kirkegaard, Senior Advisor, The Danish Agency for Higher Education and Science, the Ministry of Higher Education and Science
Finland
Dr. Henriikka Mustajoki, Secretary-General, Federation of Finnish Learned Societies
France
Marin Dacos, French Coordinator for Open Science, Ministry of Higher Education, Research and Innovation – France
Germany
Dr. Anna Maria Hoefler, Science Policy Coordinator, ZBW – Leibniz Information Centre for Economics
Greece
Prof. Michalis Zervakis, Vice-Rector of Research and Lifelong Learning,Technical University of Crete
Ioannis Emiris, President of the Board and General Director, Athena Research Center
Hungary
Gyöngyi Karácsony, President, Association of University Libraries' Directors, representing the National Research, Development and Innovation Office​​
Ireland
Dr. Daniel Bangert, National Open Research Coordinator, Digital Repository of Ireland, Royal Irish Academy
Dr. Patricia Clarke, Health Research Board
Latvia
Aleksandrs Mārtiņš Blūms, Counsellor for Research and Space, Permanent Representation of the Republic of Latvia to the European Union
Edvards Francis Kuks, Social Sciences and Humanities Expert, Ministry of Education and Science
Ingmārs Kreišmanis, Head of the Expertise and Analytics Unit, Latvian Council of Science
Anna Leiškalne, Senior Expert, Ministry of Education and Science
Malta
Karl Montebello, Executive (Policy & Strategy), Malta Council for Science and Technology
Netherlands
Karel Luyben, President, EOSC Association, Delft University of Technology
Gerdien Verheuvel, Senior Policy Adviser, Department for Research and Science Policy, Ministry of Education, Culture and Science
Norway
Vidar L. Haanes, Rector/ Chair, The National Forum for Open Science Universities Norway – Research
Romania
Dr. Alina Irimia, Open Science projects coordinator, UEFISCDI
Slovenia
Dr. Ivan Skubic, Secretary, Ministry of Education, Science and Sport
Peter Steerle, Secretary, Science Directorate – Science Division, Ministry of Education, Science and Sport
Spain
Cecilia Cabello, Director European STI Policies, Spanish Foundation for S&T (FECYT)
Inmaculada Figueroa, Vice Deputy Director General for the Internationalisation of Science & Innovation, General Secretariat for Research, Ministry of Science and Innovation
Sweden
Dr. Sofie Björling, Head of Department, Research Infrastructures, The Swedish Research Council
Sanja Halling, Senior Research officer, Department of Research Infrastructures, The Swedish Research Council
Switzerland
Ariane Studer, Deputy Head of Division Higher Education Policy, swissuniversities
Isabel Bolliger, Scientific Officer for International Research, Swiss National Science Foundation
Dr. Aude Bax de Keating, Open Science Co-Coordinator, swissuniversities
UK
Rachel Bruce, Head of Open Research, UK Research and Innovation Strategy (UKRI)
Ukraine
Grygorii Mozolevych, Head of the Expert Group on Integration into the European Research Area, Ministry of Education and Science of Ukraine
Oleksandr Berezko, Coordinator of the Ministerial Working Group on the National Plan for Open Science Development, Lviv Polytechnic National University
Observers
Kostas Glinos, Head, OS Unit, European Commission
Vinciane Gaillard, Deputy Director for Research & Innovation, European University Association (EUA)